The Visit
A film by Michael Madsen
DK/A/IRL/FIN/NOR 2015, 83 Min.
RED 4K / DCP, Cinemascope (1:2,66)
Fertiggestellt
Synopsis
A Documentary from Outer Space
THE VISIT is a documentary with comedy elements, and a philosophical exploration of our fear of strangers through the ultimate threat to our self-image: The discovery of Alien Intelligent Life.
In Vienna lies the UN-city, with its late 1970's architecture and its extra-territorial status not unlike a giant spacecraft that has landed in the middle of the civilized world. Inside this impressive institution representing our belief in humanity, resides the UN Office of Outer Space Affairs – the OOSA.
THE VISIT opens with a close-up of an animal. It instinctively reacts to something unknown. Inside the OOSA, a phone rings. Deputy Director-General, astro-physicist, Dr. Mazlan Othman, is informed that an alien has arrived...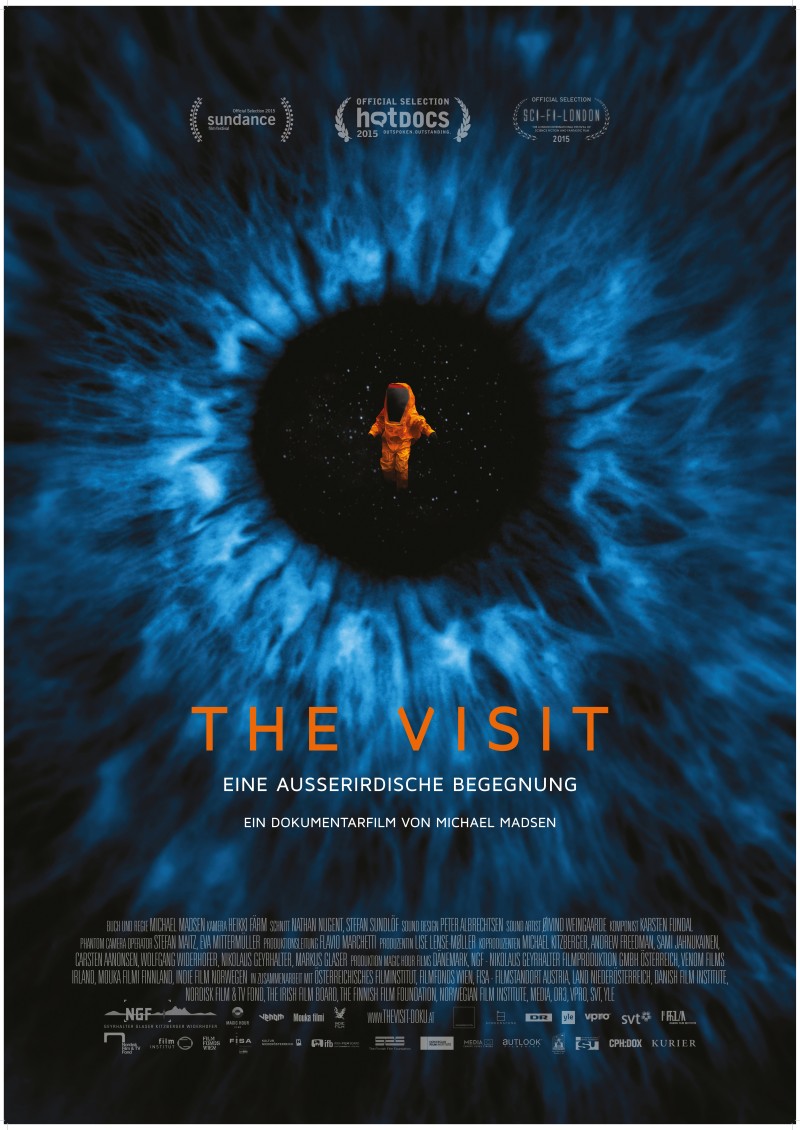 Credits
Director and Script: 
Michael Madsen
Photography:
Heikki Färm
Editing:
Stefan Sundlöf
Nathan Nugent
Sound design:
Peter Albrechtsen
Sound Artist:
Øivind Weingaarde
Phantom Camera Operator: 
Stefan Maitz
Eva Mittermüller
Production Manager:
Flavio Marchetti
Producer: 
Lise Lense-Møller
Coproducers:
Michael Kitzberger
Wolfgang Widerhofer
Nikolaus Geyrhalter
Markus Glaser
Andrew Freedman
Sami Jahnukainen
Carsten Aanonsen
Production:
Magic Hour Films, Denmark
NGF - Nikolaus Geyrhalter Filmproduktion GmbH, Austria
Venom Films, Ireland
Mouka Filmi, Finland
Indie Film, Norway
With support of:
Österreichisches Filminstitut 
Filmfonds Wien
FISA - Filmstandort Austria
Land Niederösterreich
Danish Film Institute
Nordisk Film & TV Fond
The Irish Film Board
Section 481
Screen Scene
The Finnish Film Foundation
Norwegian Film Institute
MEDIA – slate funding
TV-Sender:
DR3
VPRO
SVT
YLE
Download
Please be aware that these photos are available exclusively for work associated with the film, duplication for use elsewhere is prohibited without express permission.
© Nikolaus Geyrhalter Filmproduktion GmbH